Tenant approval — the DNA of our business model

Having a home is a fundamental human need. Offering a safe home where our tenants feel happy is an elemen­tary deliverable of our business. The key for providing this service offering is functioning communication channels, which allow us to react quickly and reliably to any tenant matter. We measure tenant satisfaction continuously through surveys and feedback loops, with the aim of constantly improving our service offering through specifically targe­ted measures.



Customer-friendly property management
A key contributor to our customer-friendly property management is a constant and efficient exchange. Through various communication channels, we stay in touch with our tenants and ensure their well-being. Tenants may contact us directly through our Peach Points, for example. Peach Points are tenant shops usually within walking distance of our core portfolios or integrated into our residential complexes. Peach Points have permanent Peach staff that are available to provide tenants with advice and assistance. We operate Peach Points in 15 locations across Germany, and our tenant shop model is immensely popular among our tenants.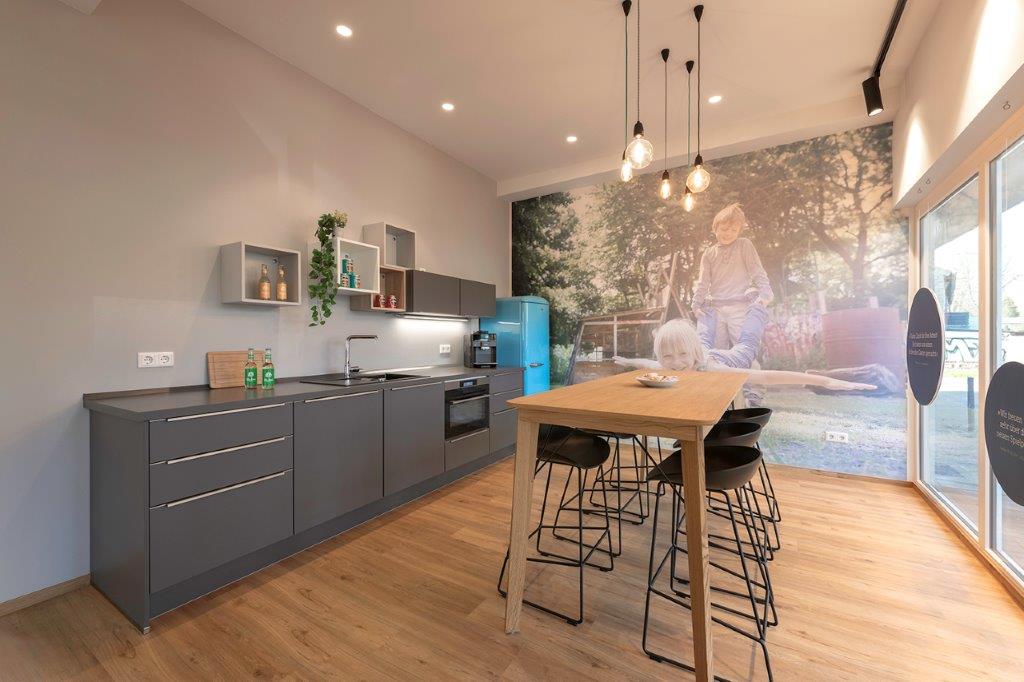 In addition to our on-site presence, we are continuously improving our digital service offerings. Through our ticketing system, we have a constant overview of open tenant reports and the response times of Peach Points and our external tradesmen partners. During the year, we further simplified the feedback process by integrating it directly into our ticketing system. Since the introduction of the system, we have measured a satisfaction rate of over 78 percent.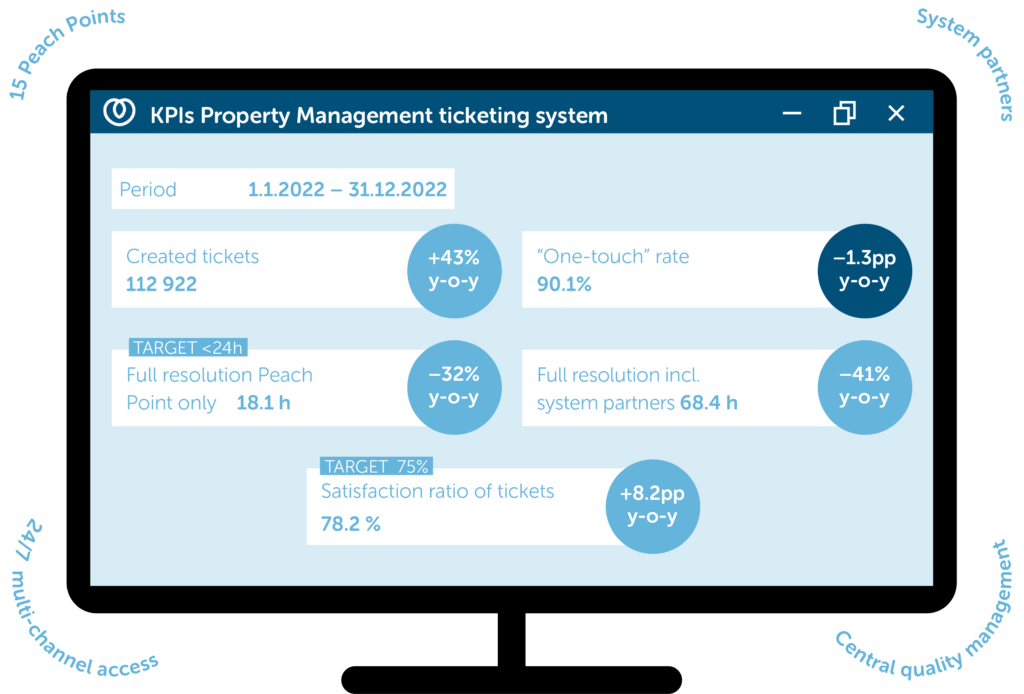 In addition to our efforts toward digitalization, we value direct, personal exchanges with tenants. Therefore, we were pleased to host the first of our popular tenant festivals again after the pandemic-enforced break in early summer in Kaiserslautern. At the event, Peach management members, employees, and tenants celebrated together in a familiar and exuberant atmosphere while getting to know each other better and informally exchanging thoughts.
Affordable und sustainable living
In most of the locations where we are present, our rental units are among the most affordable housing products on the open rental market. We monitor the affordability of our cold rent levels in relation to our tenants' disposable income. On average, the cold rent for a typical Peach rental unit should not be more than 30 percent of the household's disposable income.

We also attach great importance to a well-kept and pleasant environment around our properties. At many locations, our buildings are surrounded by extensive green spaces, which we carefully maintain. We constantly strive to improve the surroundings to the benefit of our tenants. For example, we installed physical activity pathways in some locations that provide our tenants the opportunity to do sports in the fresh air while remaining on site. In particular, we want families to feel at home in our properties. For this reason, we regularly build or modernize playgrounds.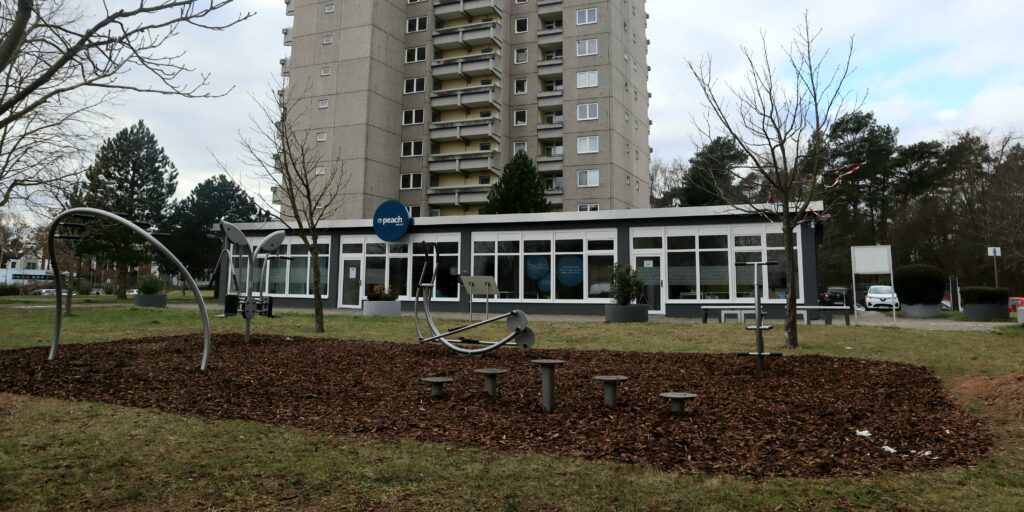 Safety and privacy of our tenants
The safety of our tenants and our properties is of great concern to us. For this reason, our facility management service providers have a contractually agreed duty of safety assessments and are responsible for maintaining safety. The service providers ensure the implementation of the necessary protective measures. Each of these measures must be documented with photos and reported to our property managers by the following working day. The service providers are obligated to use only flawless materials and products that exclude any damage to the objects to be processed.
The staff of the facility management service providers is obliged to report all defects and damages found in the service area on the objects to be processed. The cleaning records of the cleaning staff are also displayed in the showcases of the properties, signed and dated after the service has been performed.
In properties where we have commissioned our own janitors, the janitors also complete inspection reports using a dedicated app, which documents safety measures or exceptional circumstances.
In addition, we have service level agreements with external service providers in place covering fire protection maintenance, drinking water analyses, and gas leak tests on all our properties.
Inspections scheduled
Unit
2022
Space with inspections
carried out
Incidents of non-compliance with health &
safety regulations and guidelines
Assets undergoing
health & safety assessments
Annually1
m²
Residential space:  1 712 431
Commercial space 71 598
100%
100%
In 2022 no incidents of non-compliance have been reported that
were not immediately resolved. We have established standard
procedures to address incidents identified during inspections, which
worked out well in the 2022.
1Our facility managers carry out the inspections at regular intervals after the date of the first inspection.
As a real estate investor with a focus on residential real estate, we consider the non-violation of human dignity and privacy as non-negotiable basic principles which must be adhered to. The sensitive handling of the data of our tenants, business partners, and employees as well as compliance with data protection regulations are to be understood within this context. We consider the Swiss Federal Data Protection Act (DSG), the German Federal Data Protection Act (BDSG), and the General Data Protection Regulation (GDPR) of the European Union as our guiding principles with respect to data protection. In the reporting year 2022, we did not register any report of leaks, thefts, or losses of customer data.
Selection of our current KPIs in the area of tenants
| | |
| --- | --- |
| Number of Peach Points | 15* |
| Vacancy rate | 6.9 % |
| Tenant satisfaction rate | 78 % |
| Time to resolve a tenant matter | 18 hrs |
| "One-touch" rate | 90.1 % |
| Average portfolio rental period | 9.8 Years |
| Share of assets undergoing health & safety assessments | 100% |
| Incidents of non-compliance with health & safety regulations and guidelines | 0 |
UN SDGs relevant to us in the area of tenants