Sound corporate governance underpinned by core ethical values in daily dealings with one another

For us, ethical corporate management practices form the basis of our operational actions. These include combating corruption, avoiding conflicts of interest, avoiding bribery and anti-discrimination. These values form the basis for our internal corporate governance structures, and our Group-wide Code of Conduct while they provide a tangible guideline for operating within the legal boundaries applicable to us. We adhere to these basic values when dealing with employees, business partners, and tenants alike.
Peach Property Group has a zero-tolerance policy with respect to compliance with legal and internal regulations. To further strengthen our compliance system, we have contracted an external service provider to set up a whistleblower system. The system provides a 24/7 hotline in 10 languages and an online web portal.
The whistleblower system as well as further codes and guidelines can be accessed here.
Further information on the governing bodies and the corporate structure can be found here.
Our ESG governance structure
In 2022, we created a cross-divisional committee, our Sustainability Committee, which is responsible for the management and further development of our ESG strategy and monitors the achievement of our goals. The Sustainability Committee is chaired by the Chief Financial Officer (CFO). He is also the link to the Executive Board, which has overall responsibility for the ESG strategy and the related objectives.
The Sustainability Committee meets regularly, but at least once a quarter, to discuss ESG-related issues. For example, the integration of ESG issues into operational processes or the requirements for our ESG reporting are discussed. In the Group-wide risk management process, the Sustainability Committee acts as the risk-responsible body for climate-related physical and transition risks, which are submitted to the Audit and Risk Committee of the Board of Directors.
The committee is managed by ESG Management and includes representatives from Asset & Property Management, Technical Management, Legal & Compliance, HR, Investor Relations and Finance.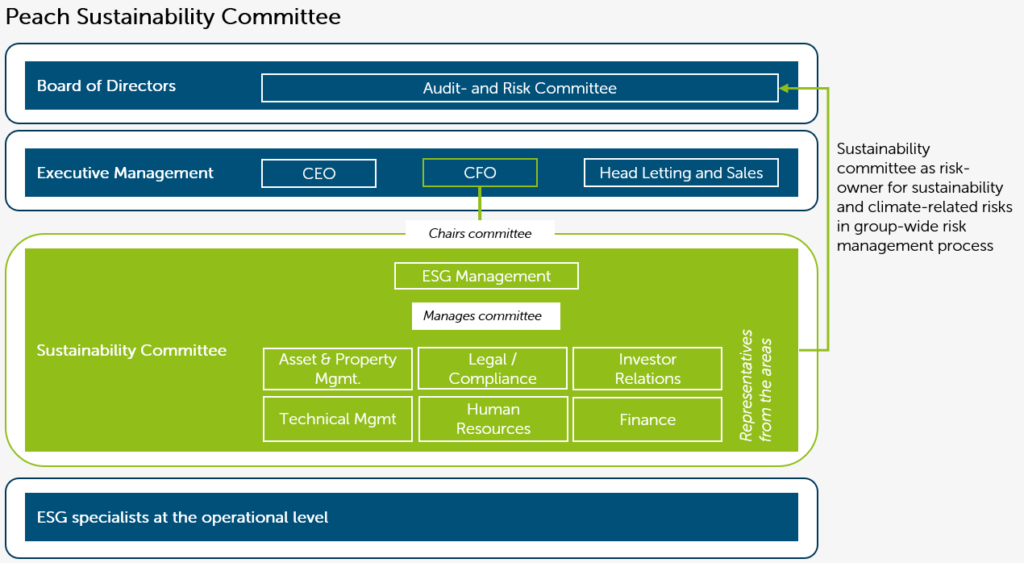 Contact ESG Management
Stefan Feller, CFA
Tel.: +41 44 485 50 18
Conscientious relationship with business partners
Peach Property Group strives for business management that is sustainable in terms of the economy, society, and the environment. We are committed to working together with business partners that share our values and therefore, we choose our business partners carefully. We have set out these values in our Code of Conduct for Business Partners which all our business partners must adhere to when working with Peach Property Group.
Our business partners support us with facility management, security checks on our properties, or waste management. One of our key business partners carries out minor maintenance up to a defined cost limit in almost all our properties and is seamlessly integrated into our tenant service platform. Our service partner portfolio comprises approximately ten business partners. We also have relationships with around five energy suppliers and related services.
We further work with around twenty long-standing preferred partners for refurbishments and capex measurements in our properties, which we commission on a project-by-project basis.
All our business partners for the operational rental business are German-based companies. In most cases, they maintain a local presence in our important locations. Given the complexity of the project, we have contracted around thirty business partners for the construction and related work on our last remaining development project in Switzerland. While most of these partners are based in Switzerland, in most cases close to the construction site in Wädenswil/Zurich, in some specific cases we have also engaged specialists based in Germany.

In this digital age, it is very important to handle the perso­nal data of our tenants, employees, and business partners responsibly and discreetly. With a secure IT infrastructure and highly qualified employees in data processing, we ensure that this data does not reach third parties and is not misused. Parallel to our strong growth, we are con­tinuously enhancing our IT infrastructure.
In 2022, for example, we were able to overhaul the network infrastructure of each of our branches and hand it back to our own IT department. At the same time, we have optimized monitoring so that we are alerted to problems or threats more quickly and effectively.
Our Zero Trust approach ensures the security of sensitive company and customer data. Instead of blindly relying on trusted networks, devices, accesses, and emails, we are rigorously checking every request and every attempt to gain access. This protects sensitive data from unauthorized access and minimizes the risk of security breaches.
We have added another layer of protection to secure data and information by implementing Multi-Factor Authentication (MFA). MFA requires users to enter multiple authentication factors to confirm their identity. In this way, we ensure that only authorized individuals have access to company data and that this data remains secure.
We have taken further precautions to protect our corporate assets with the introduction of conditional access. Using intelligent access management, we can ensure that only authorized individuals can access our sensitive data and systems. Our system automatically detects potential risks and implements authentication and authorization measures or automatically blocks access.
This has enabled us to protect our corporate resources from unauthorized access and further enhance the protection of sensitive corporate and customer data and identities.
Peach Property Group was a member of the European Public Real Estate Association (EPRA) during the current financial year, but did not join any other industry associations, and did not incur any expenditure in connection with political consulting services. There were also no expenses in the form of political party donations.
Selection of our current KPIs in the area of governance
| | |
| --- | --- |
| Proportion of employees with Code of Conduct training | 100 % |
| Violations of the Code of Conduct | 0 |
UN SDGs relevant to us in the area of employees