Reduction of carbon footprint through responsible real estate management
As a real estate investor, we have a unique responsibility with regards to the protection of our environment, and the achievement of national and international climate targets.
The real estate sector accounts for around 40 percent of current CO2 emissions worldwide. It is therefore im­portant to identify, and implement sustainable solutions to decrease the CO2 emission, and increase energy effi­ciency of our real estate portfolio. We have been working tirelessly since 2017 on measures to optimize the use of natural resources in our real estate portfolio.
We are currently focusing on the following areas of action in environmental protection.
We also systematically consider the life cycle of a property and its impact on our environmental risk profile as part of our due diligence process for new acquisitions.
Decarbonization roadmap –
climate neutral property portfolio by 2050
As a further step in our journey, we implemented a decar­bonization tool based on the energy certificates of our properties in 2021, in cooperation with external specia­lists. This tool forms the base for scenario planning of our decarbonization measures. We can readily calculate and present the costs associated with, and the expected CO2 reductions anticipated from, our decarbonization mea­sures. We furthermore have the flexibility to holistically assess renovation and refurbishment measures by also taking the remaining useful life of properties into account. We are well positioned to implement accurate measures with respect to external partner contracting, and materials and products used when considering the entire potential future life cycle of the planned measure. In addition, we will increasingly include considerations relating to the life cycle of a property and the impact on our environmental risk profile when assessing potential acquisitions.
Based on the analysis carried out in the financial year, we have defined a decarbonization roadmap for our real estate portfolio towards a climate-neutral portfolio by 2050. In addition to the data analysis according to EPRA sBPR, the calculation of our starting point also includes properties that we acquired in 2021, for which energy cer­tificates were already available.
A total of 18 917 residential units and 14 commercial units, with a total rental space of 1.2 million square meters were included in the decarbonization analysis. This results in a CO2 intensity (Scope 1 and 2) of 34.5 kg CO2e/m2. We are currently working on collecting and evaluating data for other properties acquired in 2021. Based on initial estima­tes, we anticipate that this will increase the CO2 intensity of our entire portfolio towards 35 kg CO2e/m2 This value, which should be available by the end of 2022 at the latest, represents the starting point of our decarbonization road­map. On this basis, we are committed to reducing the CO2 intensity of our portfolio to below 30 kg CO2e/m2 by 2030. This represents an important intermediate milestone in the journey towards climate neutrality by 2050.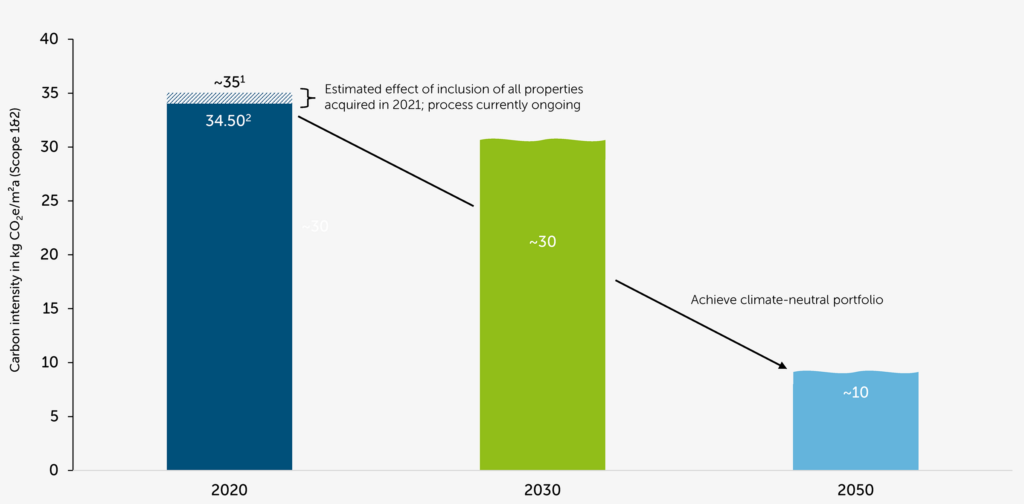 Our strategy for achieving the CO2 targets
In our ESG evaluation, we found that 88 per cent of emissions are attributable to the energy sources natural gas, oil and district heating.

Against this background, our decarbonization strategy focuses on the energy consumption from heating. The most important measures will therefore be the conver­sion to a CO2-neutral heat supply, and improving energy efficiency through building insulation.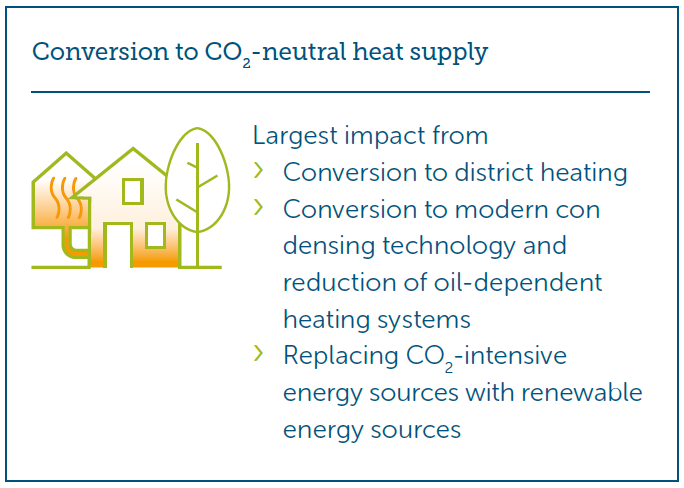 Next to optimizing the source of heating, it is equally important to reduce heat lost due to bad insulation, and consequently lower our CO2 intensity.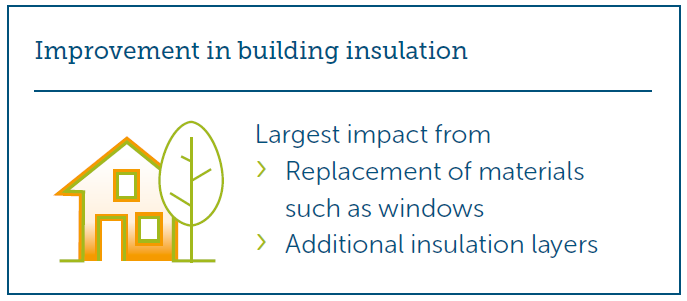 These renovations too fall within the scope of prioritizing an energy-focused renovation program for our proper­ties, based on the decarbonization tool. In the execution, we focus on properties that have the biggest impact on the carbon footprint of our portfolio.

Decarbonization in our fleet is set to continue. After three electric vehicles were introduced as company cars in 2019, the fleet of electric vehicles doubled in the current financial year – 45 percent of our vehicles are now emis­sion-free. Together with the hybrid vehicles, around half of our fleet is equipped with alternative powered engines. Depending on the availability of certain types of vehicles, such as small delivery trucks, at least 75 % of our fleet should be converted to e-mobility by 2023. At the same time, we continued the installation of charging stations for electric vehicles at our portfolio locations which in­creased from five in 2020, to sixteen in 2021.
Selection of our current KPIs in the area of environment
In order to further reduce greenhouse gas emissions, we continuously measure and analyze important environ­mental KPIs from our rental units. The data is collected and evaluated in accordance with EPRA sBPR.
| | |
| --- | --- |
| CO2 emissions: | 28.6 kg/m2 |
| Energy intensity: | 152.4 kWh/m2 |
| Waste recycling rate: | 33 % |
| Proportion of electric vehicles deployed in the fleet: | 45 % |
As of 31. December 2021
The complete EPRA Sustainability Performance Measures in the area of environment can be found in the appendix to the Sustainability Report. (Download Sustainability Report)
UN SDGs relevant to us in the area of environment

EPRA Award 2022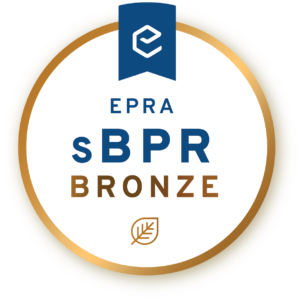 In 2022, the Peach Property Group was awarded the EPRA (European Public Real Estate) Bronze Award for the sustainability reporting.
The ERPA Awards are awarded annually to real estate companies that successfully implement the EPRA BPR Guidelines.